Hands off teachers in Lumad community schools!
Submitted on Wed, 08/31/2016 - 13:02
"The illegal arrests, threats and harassment of teachers in Lumad community schools prove that Oplan Bayanihan continues against Lumad communities and the people who support their struggle," Cristina Palabay, Karapatan secretary general, said.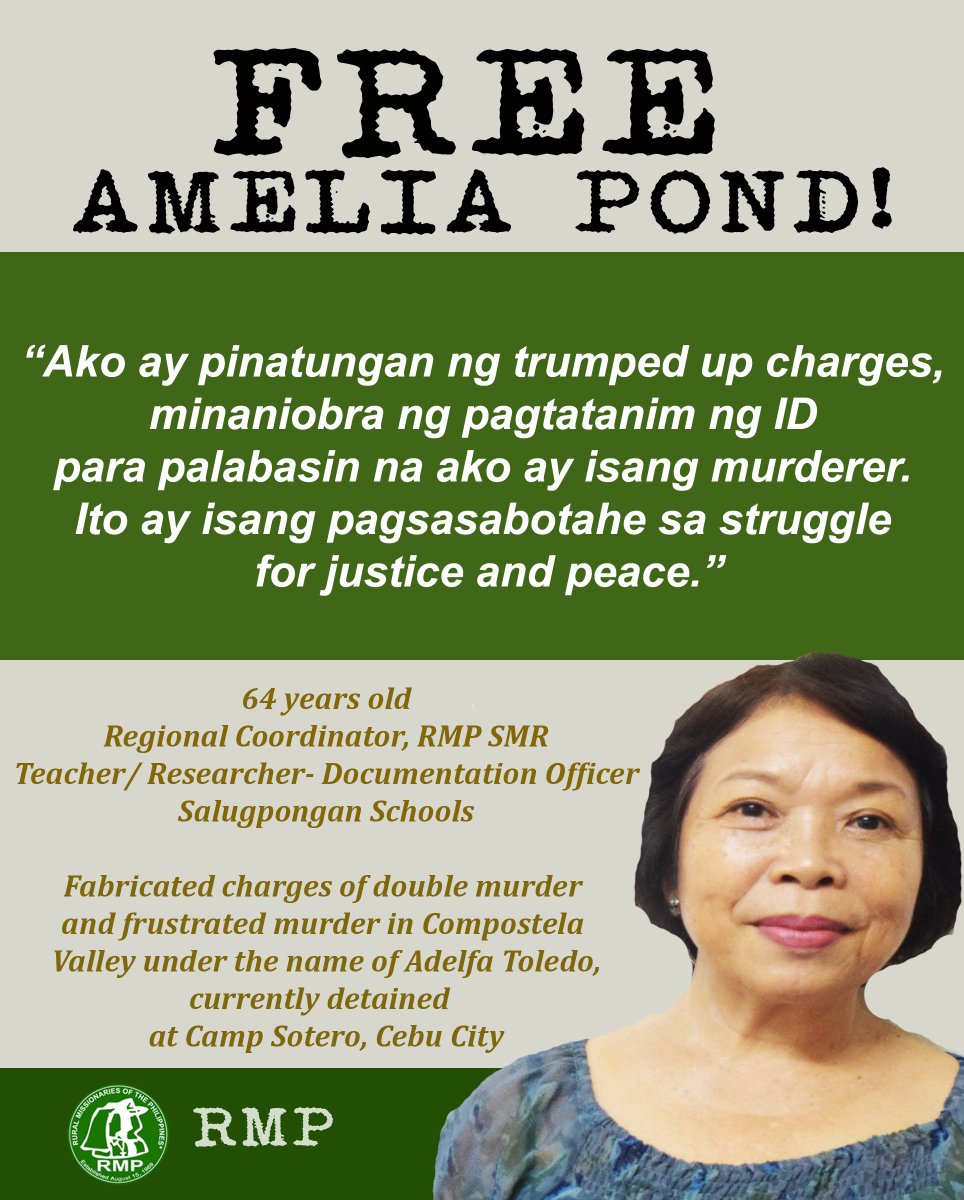 On the first day of the resumption of the peace talks between the National Democratic Front of the Philippines and the Government of the Republic of the Philippines, Amelia Pond, 64 years old, regional coordinator of the Rural Missionaries of the Philippines (RMP), and teacher and researcher of Salugpongan Ta 'Tanu Igkanogon Learning Center (STTICLC) was arrested. The warrant used for her arrest was meant for a certain "Adelfa Toledo" based on charges of double murder and frustrated murder.
Pond's bag was illegally searched by the police and two false IDs of "Adelfa Toledo" were slipped inside.
"Last July 7, two teachers from the Mindanao Interfaith Services Foundation, Inc. Academy (MISFI Academy) in Brgy. Tapak, Paquibato, Davao City were forced to leave the community where they teach," Palabay said. Jun Villasurda and Chavez Paterno received blatant death threats from Boris Cayuga, one of the leaders of ALAMARA paramilitary group, who threatened that the school will be burned and teachers will be killed.
Ronnie Garcia, executive director STTICLC saw unknown men at the Davao Regional Hospital in Barangay Apokon, Tagum City where they were attending to his sick grandfather morning of July 24. The men asked his family if he is their relative.
Garcia was alarmed to see one of the men carrying a firearm tucked inside his shorts. He said a certain Mario Claveria, who identified himself as intelligence agent of the military, had wanted to pay him a visit in their office.
"While a unified bilateral ceasefire document is being drafted, legal offensives, threats and harassment against activists and service providers to communities should also be stopped," Palabay said.
"This can only be achieved if military troops will pull out from communities and paramilitary groups are disbanded," Palabay concluded.