Massacres and extrajudicial killings committed amid early campaigning of Aquino party
Submitted on Thu, 08/27/2015 - 11:33
"Thirteen massacres, 46 victims, seven of them are minors. These all happened under Commander-in-chief BS Aquino since 2010 up to the present," Karapatan secretary general Cristina Palabay cried out in front of the Department of Justice today. Karapatan joined Bayan and other people's organizations in a protest action on the continuing extrajudicial killings in the country.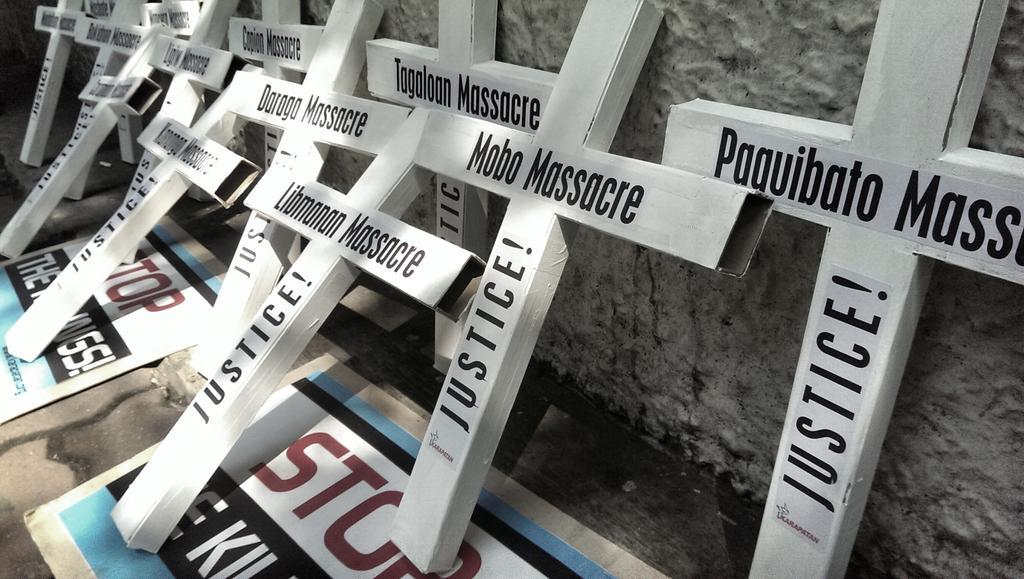 "In the month of August alone, there are two documented cases of massacre, in Masbate and Bukidnon, killing nine civilians, two of them are children. All were tagged as NPA members and supporters," Palabay said. "But, instead of going after the army killers, Pres. Aquino is busy campaigning with Mar Roxas and the Liberal Party," Palabay said. 
Karapatan said that the Inter Agency Task Force, led by the Department of Justice, which is tasked to investigate extrajudicial killings, has nothing to show in terms of effective and immediate prosecution of foot soldiers and high military officials who perpetrate human rights violations. "We call on Justice Secretary Leila de Lima to extricate herself from these early election campaign activities of the Liberal Party and heed the cries for justice of the victims and their families," Palabay said.
Among those recently killed was Teodoro "Ka Tudoy" Escanilla, Karapatan Sorsogon spokesperson, who was killed on August 20, 2015 purportedly by elements of the 31st Infantry Battalion of the Philippine Army. In February 2015, Sgt. Rene Enteria of the 31st Infantry Battalion-Philippine Army arrested, tortured and then offered a resident of the same barangay where Escanilla lived Php50, 000 and a .45 caliber gun to kill Escanilla. The person, whose name cannot be disclosed for security purposes, immediately reported the incident, and other human rights violations committed by the 31st IB-PA in their community, to Karapatan-Sorsogon.
On August 3 in Masbate, three habal-habal drivers and a nephew of a barangay captain of Del Carmen were asked to help the wounded soldiers who were ambushed by the New People's Army. "Instead of showing gratitude, members of the 9th Infantry Division (ID) and 96th Division Reconnaissance Company (DRC) took the lives of these people with revenge," Palabay said. The victims were Adam Fajardo, Joebert Badillo, Gary Vistar and Rogelio Abelida. 
On August 19, in Sitio Mandum, Brgy. Mendis, Pangantucan, Bukidnon, 27 residents, including barangay councillor Isabero Sulda found five dead bodies at the Samia residence. Around the corpses were 22 soldiers of the 3rd company of 1st Special Forces Battalion. The residents' faces were photographed and their names were listed down as they were ordered not to look at the soldiers' faces. Then they were told to carry the bodies of their dead neighbors. 
Herminio Samia, 70, a blind man was found near a tree; his intestines exposed and his back badly damaged. Emer Somina, 17, Herminio's nephew, was found near the door. Norman Samia,13, Herminio's grandson, was found a few steps away. Norman's right ear was removed and his jaw was dislodged. The left hand of Welmer Somina, Emer's brother, was removed from his wrist and had a gunshot on his nose, disfiguring his face. Jobert Samia's body, son of Herminio was found near Welmer's.
A 15-year-old eye-witness who escaped the massacre recalled that the day before, soldiers of the 3rd company of 1st Special Forces Battalion told them, "Kayong mga NPA na nandyan sa itaas ng bahay, lumabas kayo diyan at bumaba dito!" (You NPAs inside the house, get out and get down!) Even Herminio, who was blind, was forced to step down from their house and walk towards a coffee tree. There he was shot. Then the soldiers shot Emer. The witness was the next target but he was able to run and hide behind big rocks. He told his father what happened but a few days after, he could no longer speak. 
"The soldiers are still at the barangay hall and day care center up to now!" Palabay said. "The soldiers even had the audacity to stay in the community where they killed its residents like they were proud of what they did!" 
In the first six months of this year, there are already 33 documented victims of extrajudicial killings. In August alone, there are 11 victims of extrajudicial killings.
"These soldiers commit massacres with such shamelessness because of the policy outlined in Oplan Bayanihan, where activists are targetted and civilians are considered collateral damage. The DOJ's inaction to massacres and extrajudicial killings encourages, or even heightens the state of impunity," Palabay said. #